Meet our design partners
We are once again pleased to welcome t&s creative communications as our creative design partners.
With a proven track record of delivering high impact and cost-effective marketing solutions for the healthcare industry, t&s creative communications create traditional advertising platforms to innovative digital media engagement, with multi-channel communications that deliver results.
As the official creative design partner of the International Technology Enabled Care Conference, t&s are delighted to offer all conference delegates their design skills and they would love to help you with your exhibition needs, from stands to collateral.
Contact them today on 0117 315 5118 with your brief, or email tsa@tandsadvertising.co.uk
As the official design partner of the ITEC conference t&s creative communications are offering preferential rates to any exhibitors requiring help designing their exhibition stands. View the options and preferential rates.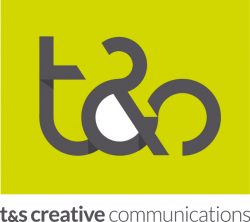 A little more about t&s creative communications
With over two decades of creating successful marketing campaigns for the healthcare sector, there's nobody better placed than t&s creative communications to ensure that your message is delivered in the right way, in the right place and at the right time.
Working with a varied mix of healthcare sector clients, both in the public and private sector, t&s have a wide-range of sector experience and have helped a number of businesses improve their corporate and HR branding, increase staff engagement and internal comms, as well as effectively managing their online and social media presence.
As part of their extensive experience, t&s creative communications have been TSA's ITEC creative partner for the past 3 years. In that time, they have worked cohesively with TSA members and ITEC delegates in creating innovative, engaging and result driven campaigns.
Here's just a few clients with whom the t&s team have worked with:
Eldercare
East Renfrewshire Health and Social Care Partnership
Mersey Care
Tendring District Council
The Progress Group
South Western Ambulance Service NHS Trust
Medvivo
Ludlow Street Healthcare
Macc Care
The Somerset Care Group
Aspects and Milestones
St Monica's Trust
For a more comprehensive list of the healthcare sector work that t&s has done, why not browse their latest portfolio of work.