Professor Jonathan Wallace, Professor of Innovation, University of Ulster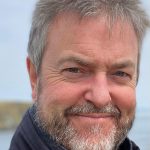 Professor Jonathan Wallace is Professor of Innovation within the Faculty of Computing, Engineering and the Built Environment at Ulster University. His excellence in both Knowledge & Technology Transfer and lecturing has been recognised by his being awarded a Distinguished Business Fellowship and Distinguished Teaching Fellowship.
He has led the development of numerous software systems in diverse market sectors and has attained broad experience of managing successful research projects at both a local, national and international level. Jonathan has a significant track record in the field of Digital Health and is recognised as an innovator in the co-creation of user-centred Digital Health product and service solutions. He is a founder member of the TRAIL Living Lab based at the Ulster University as well as the BCS Health NI Special Interest Group. He is a founder member and Deputy Chair of the Northern Ireland Science Festival as well as Chair of the IET/BCS annual Belfast Turing Lecture. Professor Wallace chaired and remains a member of the Institution of Engineering and Technology Policy Group for Northern Ireland and is a member of the All-Party Advisory Group on Science, Engineering, Technology and Maths for the local devolved Government Assembly.
He currently has a leading role in a number of regional, national and international Digital Health research projects where he is particularly applying his expertise in Co-creation, UX & Usability Engineering, Data Science and Business Model Development. Jonathan is a judge on a number of UK national awards competitions for Innovation in Digital Health and Wellbeing. Jonathan led the Ulster University academic team which successfully completed Phase Zero for the EC-funded H2020 MAGIC PCP Project for Stroke Rehabilitation and he was also Dissemination and Exploitation Workpackage Leader and Chair of the Policy Board for the recently successfully completed EC-funded H2020 MIDAS Project for 'Big Data Supporting Public Health Policies'. He is currently Leader for WorkPackage 1: "Human-centred and Trustworthy AI Solutions" for the recently launched 4 year €12.5M LUCIA Horizon Europe Project on AI for multi-omic, socioeconomic and epigenetic risk factors for Lung Cancer.
A champion of developing entrepreneurial and intrapreneurial skills and knowledge in Ulster's students, Jonathan is also a judge on the UUSU's Annual Shark Tank Awards and a judge for the 2023 Student INVENT Awards. The 'engage' service solution which Jonathan has led the development and commercialisation of, has been significantly used as a real-time stakeholder engagement tool to gain strategic consensus across government, industry and academia including for the HSC NI Workforce Strategy 2017 to  2026; all the sub-specialisms for the AHP Workforce Strategy.  Most recent engagements have been both sides of the border in Ireland identifying user needs as part of our North South HEA funded project AIM4HEALTH which focuses on AI approaches to reducing mental health inequalities in Ireland.
With over 105 peer-reviewed publications, Jonathan lectures on the University's innovative M.Sc. Digital Marketing Communication and Leadership, as well as their undergraduate and postgraduate Computing degrees.